Serving Your Eyewear and Vision Needs!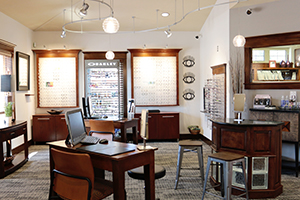 Our optical department carries the best ophthalmic materials to serve your vision needs while making you look good! Our high quality frames hold their adjustment and will last for years. Newer lens designs make our eyeglasses liteweight and comfortable; Hi-Tech optics provide clear, crisper vision than ever before!
Your eyewear purchase includes professional frame styling, lens recommendations, accurate measurements, and routine frame adjustments. With over 1,000 high quality frames, our knowledgeable opticians  will help you find just what you are looking for. Our opticians have years of experience in repairs. We are happy to service eyeglasses purchased elsewhere for our standard "out of clinic" service fee plus parts and labor fee.
Our eyewear center uses the most-technologically advanced ophthalmic lenses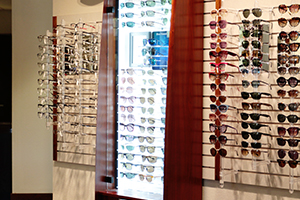 No-line digital progressive lenses
Computer lenses
High-index for thin/light
Polycarbonate (unmatched for shatter resistance)
RESOLUTION & TRIVEX lenses (for distortion free vision)
We fill outside prescriptions
Glasses for occupational safety or recreational sports
Lenses with scratch-resistant, UV, Blue light safety & anti-reflective treatments
Sunglasses with variety of tints & polarization
Yes, we have children's frames too!
Ask for details about Our Exclusive Eyewear Warranty